Opening Day is about starting fresh. For me that means catching up, which starts with writing.
And the first thing I needed to write about is a very generous card care package from Fuji. Queue Jimmy Fallon's Tonight Show thank you writing music…
First up is Johnny Bench from the 2010 Topps Vintage Legends set (I don't know why 2002 Topps is printed on the card). I have a card from this set because it's a 1975 look-alike with Babe Ruth.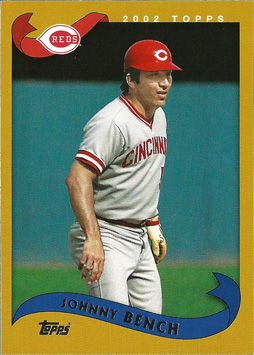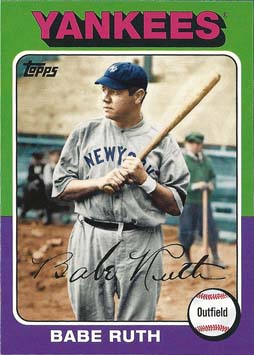 The Bench card has a familiar photo. It was also used in the 2011 Topps Lineage Mini set. I'm looking for his mini card so if anyone has one to trade then, you know, get in touch.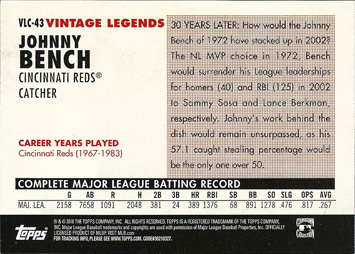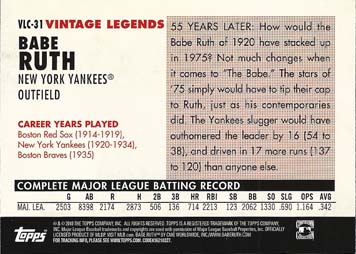 The backs tell us how these players would rank against future players. Apparently good enough to keep the legend status intact.
I also have a couple 1991 Upper Deck Baseball Heroes cards, but hadn't seen this one: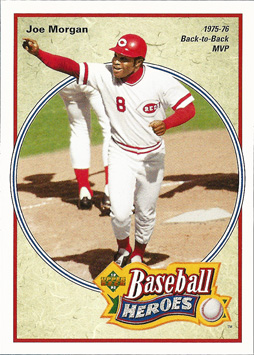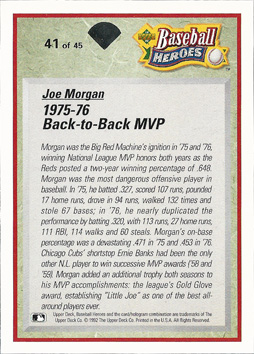 This went right in the 1975 theme folder. The back tells us Joe was so awesome in 1975 that he was named MVP. Then he did it again in 1976. There's also mention of Ernie Banks as the only other NL player with back-to-back MVP years.
I like Then & Now cards. And I also like the Father & Son sets. Here's one of Tony Perez and son Eduardo: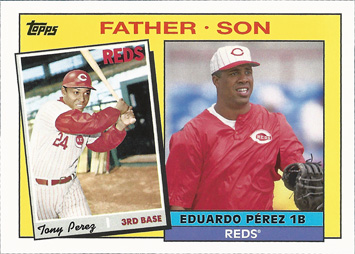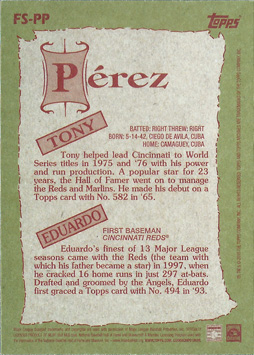 In 1982, Topps produced parallel cards for the Reds and Red Sox team sets. The packs had 3 player cards plus a team "header card" with the team name and a Topps ad on the back. The Oddball Collector's complete write-up covers other differences between the base and Coca-Cola sets.
Fuji included a couple of these Coke cards. Here Dave Concepcion and Dan Driessen are next to their younger 1975 selves: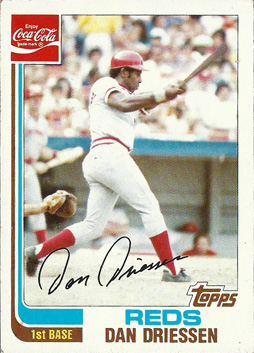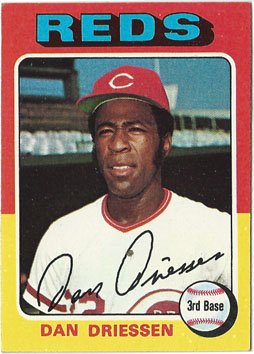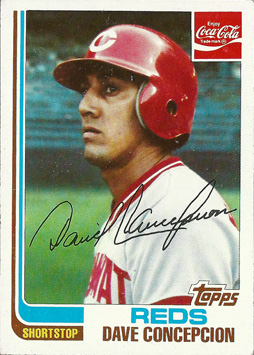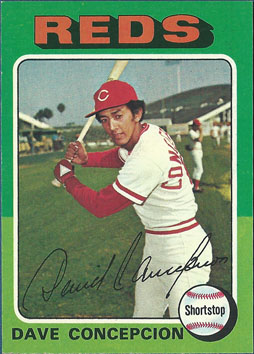 The signatures are similar, but a little different. What else is different? You've got caps vs. batting helmets. Dan moved to first base by 1982. Topps added their logo. There's the Coke logo, which I like. The Red Sox version also included a Bringham's logo. It starts to look like Times Square with all the branding.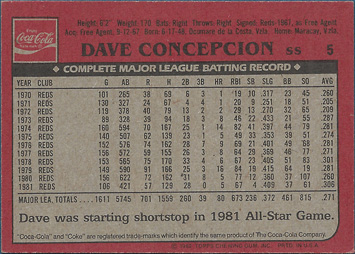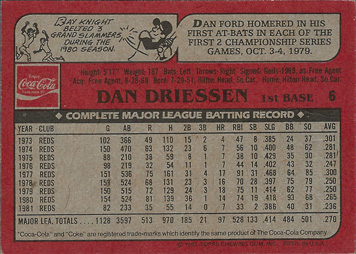 The 1982 base set has a green back, but the Coke versions are red, which works much better for a Reds or Red Sox theme.
Speaking of themes, are you sensing one yet? The package was full of Reds and Red Sox players and logo stickers.
Who doesn't like stickers? First up are three Fleer Cloth Patches. Are these stickers or patches or both? I don't know. They were made between the late 60's and mid-70's.
The Fleer Sticker Project blog is my go to for Fleer Sticker info. There's a post about the Reds patches, where I learned there are at least 3 variations of this one: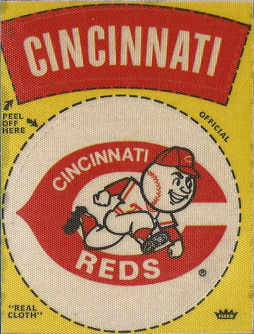 The other two patches were coming off the backing paper: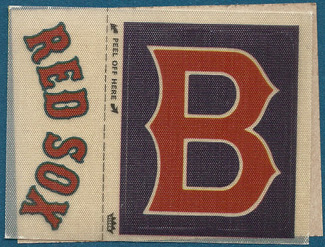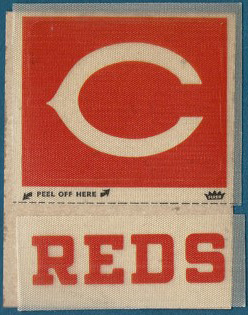 That was fine because unlike cards, stickers are meant to be stuck on things. These didn't stick, but that's ok because they slid in the binders: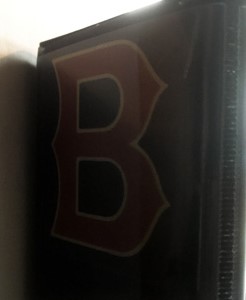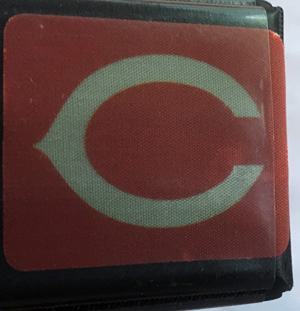 The rest of the stickers might also go on a binder — ones like this one from the 2001 Opening Day Set (Topps first foray into baseball card stickers):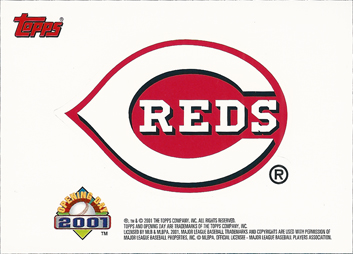 Then there's this 1989 Fleer sticker: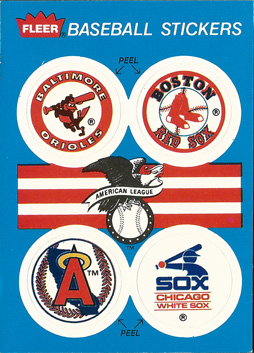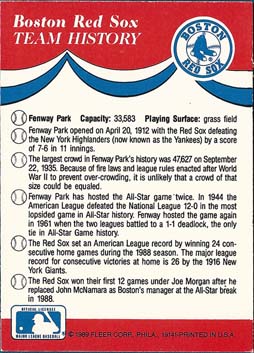 It has some historical information on the back. I'm not familiar with 1980's Red Sox history, so had to check on the Joe Morgan reference. It's not that Joe Morgan from the Reds.
And it wasn't just logos, but also uniforms: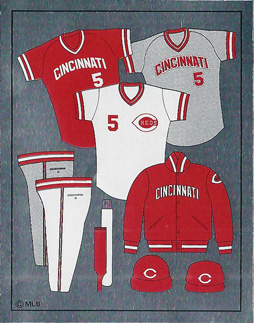 Here's the last sticker, a 1991 Upper Deck Reds Hologram. It's a super cool cross between the Reds logo and Ghostbusters: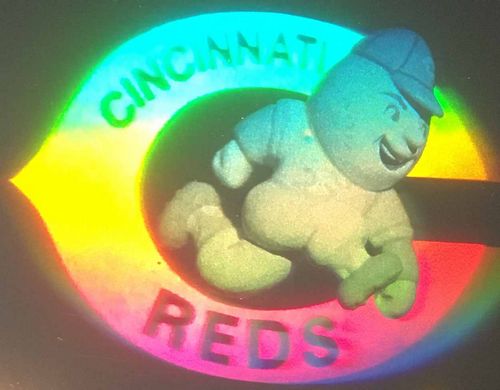 There were a few more cards, but I need to wrap this up. Thanks Fuji for the cards and your most excellent attitude. You're the best!