When you're a kid, you end up in places because that's where your parents go. One of my favorites was the mall, where I'd plow through stuff at toy shops and play video games. Eventually, I'd end up at B. Dalton's, a bookstore chain that existed before Amazon took over. There I'd chase down Choose Your Own Adventure books.
Grownup books weren't on my agenda, but if I got bored I'd look at books with a lot of photos. 1975 Red Sox: American League Champions would've been one of those books that would capture my attention – it has 218 photos within its 127 pages.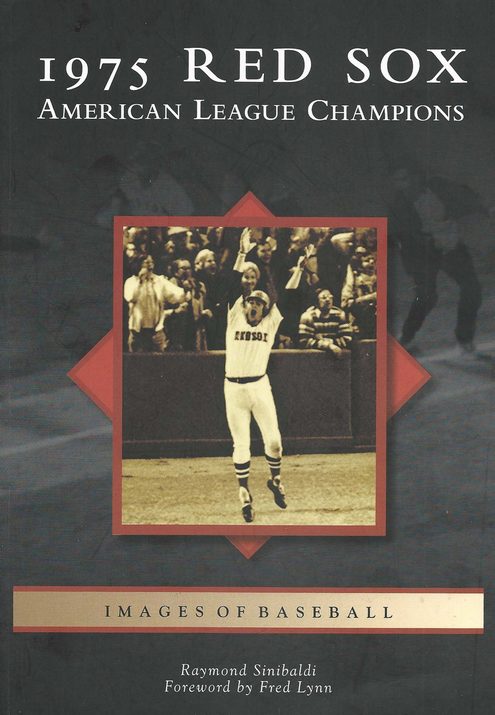 Overview
Ray Sinibaldi saw 1975's World Series in person including games 6 and 7. Ray has a trove of photo negatives from 1975 and he's generously shared them with the world. Ray is a teacher, a writer, and a baseball fan who loves the Red Sox. This trifecta of a background is the secret ingredient that makes his book such an enjoyable read.
Hall of Famer Fred Lynn leads off with a reflective and heartfelt foreword about the experience and teamwork.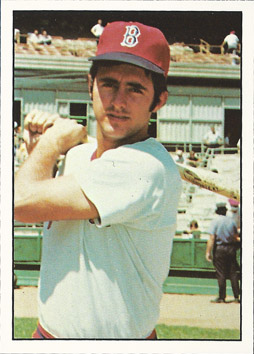 Fred Lynn's SSPC card (photo from the 1975 season)

"Freddy was my first choice, as in 1975 he was the MVP and the Rookie of the Year. It had never happened before and has happened only once since," Ray recalled. "I contacted him and within an hour I received a response that he would do it… His foreword speaks for itself and he was perfect for the job."
Chapter-by-Chapter
The book traces the Red Sox path to the 1975 World Series with photographs busting out right from the first chapter, The Bridge Between Two Pennants (1967 and 1975). It's the Ocean's 11 equivalent of a baseball documentary where we meet the crew that aims to pull off the heist of the century.
You get to know the 1975 team as they're built over the years through trades and rookies joining. This is what they looked like on baseball cards at the time…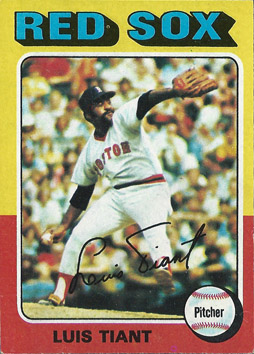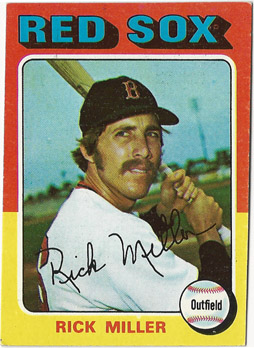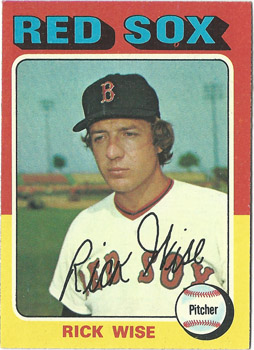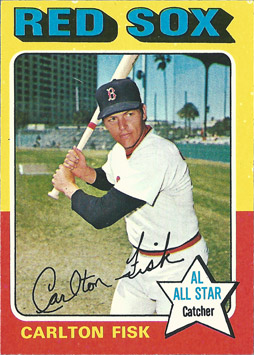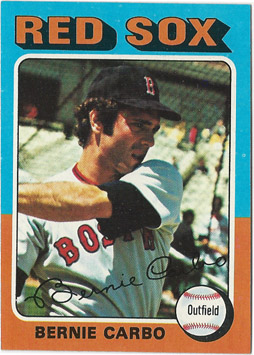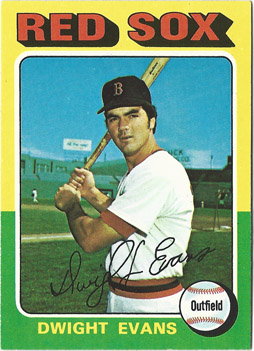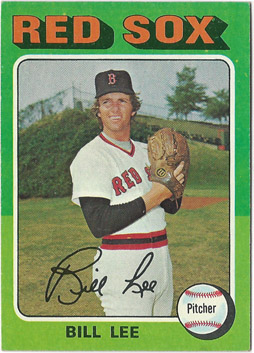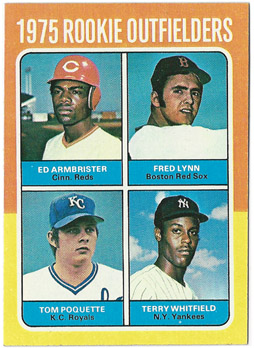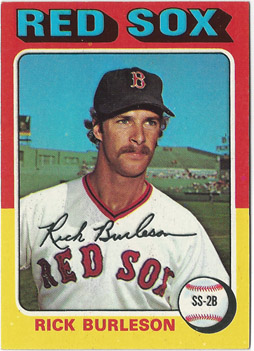 Jim Rice came up through the Red Sox farm system, Luis Tiant and Rick Miller joined in 1971, and Carlton Fisk arrived in 1972 (then dealt with injuries). Reggie Smith was traded away for Rick Wise and Bernie Carbo in 1973, Dwight Evans and Bill Lee arrived in 1973, and Jim Rice started in August of 1974 followed within 18 days by Fred Lynn and another rookie, Rick Burleson.
Ray shares many candid shots – ones you won't find on most baseball cards – like the brawl between the Red Sox and Yankees (with Carlton Fisk in a choke hold by Gene Michael).
Chapter 2 digs into the 1975 season. Denny Doyle joins in June through a trade. Manager Darrell Johnson shows up in this chapter along with action shots of Doug Griffin, Juan Beniquez, Bob Heise, Rogelio Moret, Tim Blackwell and Cecil Cooper. I didn't find Tim McCarver mentioned but he played in 1975 so he's included.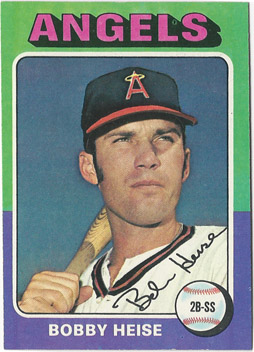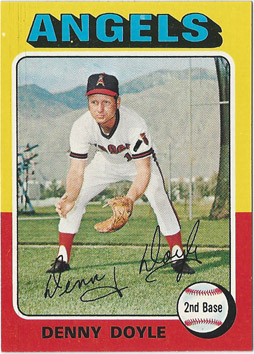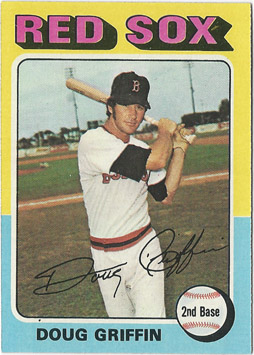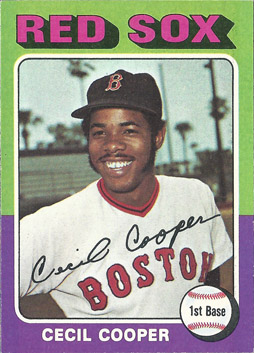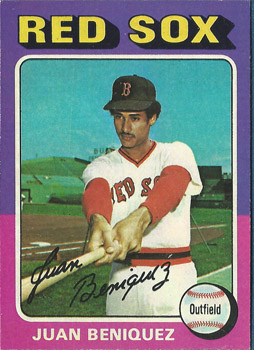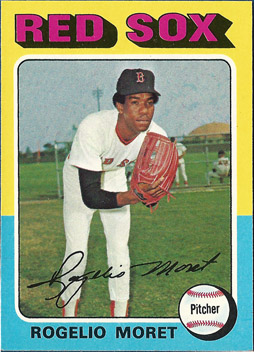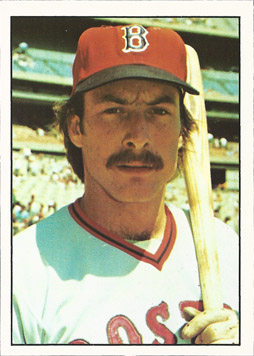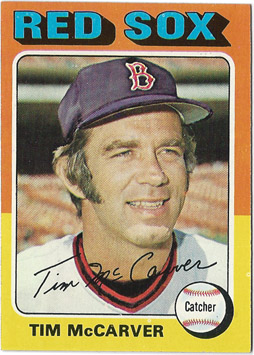 What are Angels doing in my Red Sox card stash? The Angels traded Heise for Tommy Harper in Dec. 1974, and Doyle in 1975 for Chuck Ross and some cash.
Chapter 3 covers the Pennant games and the 1975 World Series (which many view as one of the best ever). To this day, game 7 is still the most watched of any World Series TV broadcast.
The photos in this chapter alone are worth the price of admission. But the stories are also a fun read, like rookie-year Fred Lynn recalling his sleepless night walking the streets of Boston before a big game.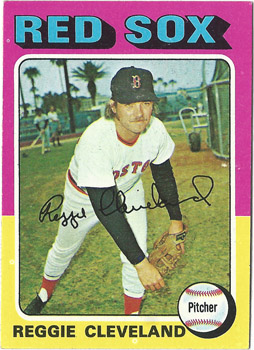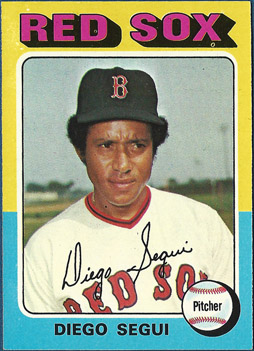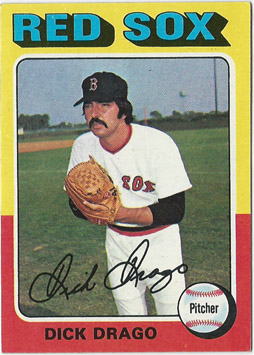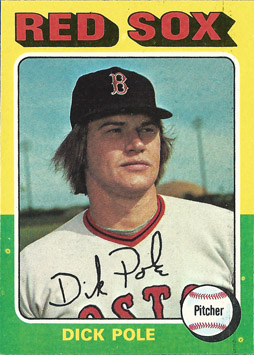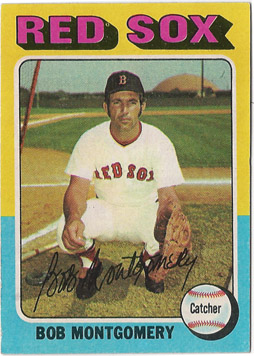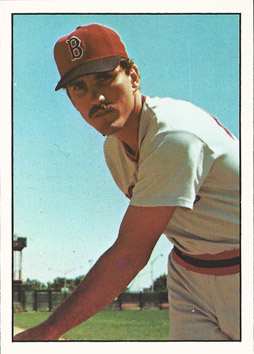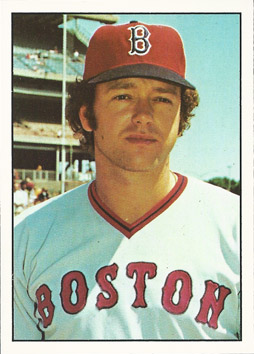 Here's a final set of Red Sox that played in the 1975 World Series: Reggie Cleveland, Diego Segui, Dick Drago, Dick Pole, Bob Montgomery, Jim Burton, and Jim Willoughby
I also learned some random history lessons like how Hurricane Eloise dumped 5 inches of rain on Fenway Park. Some clever groundskeepers had to dry it out. I found a link to a Harvard Crimson new story about the hurricane's impact. It's a weird experience reading an actual 1975 news story online.
Chapter 4 ends with a focus on Luis Tiant and some poignant shots with his father. It's a great finish to a book that perfectly blends my interests of 1975 baseball and historical photographs.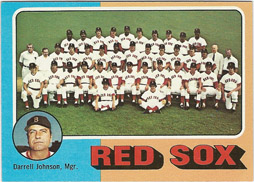 PostScript
I had a chance to ask Ray some questions…
Q: I read that many photos in the book were from discarded 35mm negatives. Can you share more about that and did you take any of the photos in the book yourself when you attended games?
Ray: I have been collecting photos since I was a kid in 1967. The idea for the book came from my first Arcadia book in 2012, Images of Fenway Park and then I came across the discarded negatives of both the 1967 and 1975 season. This led to my 1967 and 1975 books. I did not take any photos during the games in 1975. However a friend took a couple outside Fenway with Luis. My best guess about the negatives becoming available: when newspapers sent photographers to cover games they would send a couple and each would take probably hundreds of photos. Maybe four or five would go out over the wire and the rest would be archived. As we move to digitization negatives become obsolete and are sold off and thus resold. I have about 125 negative strips with four or five photos in each. Then I became a history detective…Great fun.
Q: Are any photos in color?
Some of my collection is in color but the Arcadia series calls for black and white. However, I am under contract to deliver a book in 2018 called "Modern Images of Fenway Park"… 90% of those will be in color and I have taken many of them.
Q: I understand you got a season ticket in 1975. Was that tough to get?
Not at all. In 1972 my brother and I bought a package that were for Sundays, Holidays and opening day. It included access to playoffs and World Series games.
Q: The Tiant ending was pleasant surprise. What made you end the book that way?
I have been a proponent for Luis election to the Hall of Fame since Catfish Hunter was elected in 1987. They were contemporaries and I saw both of them pitch, often. Catfish is a worthy inductee. As a baseball historian, I went to work and found that Luis career can be laid upon the careers of Catfish, Don Drysdale and Jim Bunning. They are nearly identical. Add in Luis post season performances and it adds to his credentials. Since the inception of sabermetrics into the discussion of Hall of Fame consideration and it elevates his career. I met Luis back in 2004 when he was inducted into the pitchers portion of the Ted Williams Hitters Hall of Fame in Hernando FL (now at Tropicana Field in Tampa). And a few years ago I reconnected with him at the Plantation Golf and Country Club in Venice FL. (photo page 125). I learned on that day that he is as great a guy as he was a pitcher and I also came to realize what it would mean to him to take his rightful place in Cooperstown.
I have been going to Fenway Park since 1959, I have seen a lot in my day and I will unequivocally tell you that if I had to win ONE GAME and could choose a pitcher it would be Luis Tiant. If you want to watch what he is made of, YouTube the fourth game of the 1975 World Series. The Sox were down two games to one and on the road. Watch this 169 pitch complete game effort and you will see the measure of the man, the competitor, the teammate. It is the best pitched game I've ever seen and after you watch it I would love to talk about it with you. The last chapter is my tribute to him and I hope it may wake up a few voters.
Q: Do you experience any connections between your day-job at the Youth Ranch and the writing you do?
Ray: I am fortunate enough to burn with a passion for both endeavors. American philosopher Joseph Campbell said "Pursue your bliss." If you do, you will never work for a living. I am blessed as a result of being immersed in my bliss in both of these aspects of my life… I never work.
I'm grateful that Ray decided to write this fun and educational book. You can follow him at his blog fenwaypark100.