The 1982 Kmart MVP Baseball card set that celebrate the 20th anniversary of Kmart's 1962 opening includes what I think should've been the Fred Lynn rookie card (covered here). Also included is Kmart nostalgia (I still remember walking by those flashing blue light specials as a kid).
The set breaks down like this:
41 cards of MVPs from 1962 to 1981. You'd expect the MVP cards to have an even number, but there are 3 in 1979. That's the only year with a tie (Willie Stargell and Keith Hernandez – see here for more details on the voting).
3 Highlight cards like this one: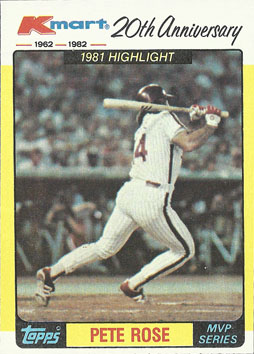 28 are of players featured in the 1975 set (including rookies and future MVPs: Jim Rice, George Brett, Keith Hernandez, and Fred Lynn)
Players with two cards in this set: Johnny Bench (1970 & 1972 MVP), Joe Morgan (1975 & 1976), Mike Schmidt (1980 & 1981), Pete Rose (1973 MVP and Highlight)
26 are also in the 1975 Topps MVP subset, which have two photos per card (#200 to 212). But the Kmart cards have larger photos since there's one photo per card: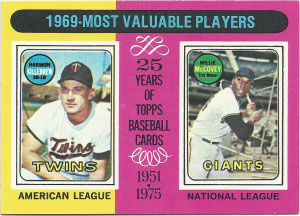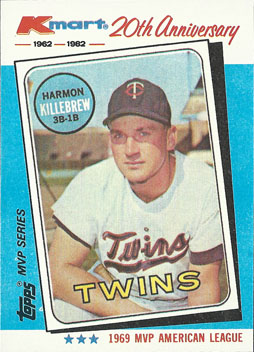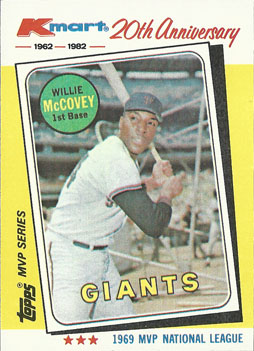 It'd be nice to own the original cards represented in these reprints
I don't know how many were produced. I was able to find one clue here where a forum post noted 2,000 Kmart stores initially got from 576 to 1,152 sets per store. That amounts to between 1.1 to 2.3 million sets. Even a production run that was a fraction of that would explain why there's still so many unopened packs
Kmart also made similar sets with different themes in four other years (all with 33 cards per set): 1987 Stars of the Decades, 1988 Memorable Moments, 1989 Dream Team, 1990 Superstars. The Wrigley Wax blog has a good overview of them all here.
Kmart also made a 726 card OPC set in 1980 but I don't know much about it (other than they're available on eBay in cello packs for cheap):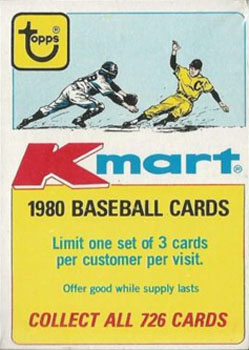 The Kmart cards may not have much monetary value, but card collecting doesn't have to be about value. If all cards cost 10 cents, I'd still collect them. And wouldn't that make it a lot easier?