This is a continuation of a list I started on Athletes with Phones. Below are some of my favorite card collecting-related reads from 2016…
5. Wrigley Wax's creative re-telling of the Christmas story according to St. Luke is appropriate for this time of year, plus it has a 1975 card in it.
4. Shlabotnik Report wrote about Tom Dempsey. I didn't know Tom's story – it's inspiring. He was born with no toes on his right foot, yet held the record for field goal distance for 40 years.
3. Tony got lucky in 2016 – he was invited on a tour of Suntrust Park under construction. His write-up sharing the experience with the rest of us was both well written and fortified with photos. It was one of the best posts of the year. The stadium would open to the public on March 31, 2017 for an exhibition game (the Braves won).
2. This forum post led to my discovery of an audacious Topps product called the Transcendent collection. It's an outrageous Gordon Gecko concept – get a ticket to a VIP party where you meet a baseball star and get limited edition cards all for 20 grand. That's not in my league. But it contained something that I was able to pick up – this Kris Bryant 1975 theme card numbered to 65. I eventually upgraded it, so this one's available to anyone who's interested.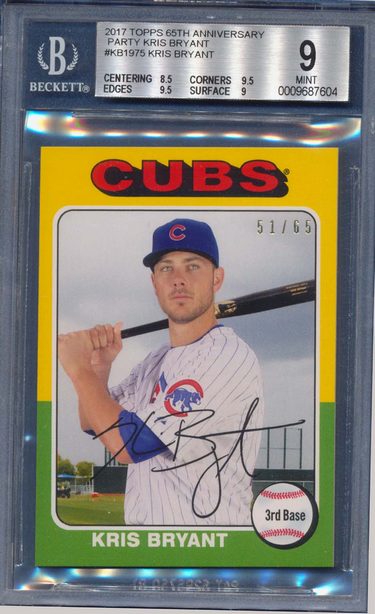 1. My favorite post of 2016 can be no other than Bob Lemke's last post. I wrote Bob late in 2015 and he replied about some future projects. About a year later I discovered Bob died. Collectors lost a friendly, helpful voice in the community. And you can still see his custom cards online. His 1975 customs included a Duke Snider and an Orlando Cepeda.