You'll find more Top Reads of 2017 at Athletes with Phones.
Here are some of my favorite blogs posts from 2017…
8. Joe Shlabotnik combined haiku and cards the result is a creative post.
7. P-Town Tom wrote a great 6th anniversary post with a bit of everything. I like the baseball coach angle.
6. Many have pondered how old people look vs. their actual age. Paul's post covers that topic for baseball cards. The Bad News Bears reference gets bonus points.
5. Sometimes nobody's asking for a thoughtful analysis of on subjects that haven't been considered. But Night Owl's there to provide said analysis. Sometimes includes cards like 1975's ERA Leader card with its Buzz Capra and Catfish Hunter nickname match-up. The only thing better than the nicknames are the expressions.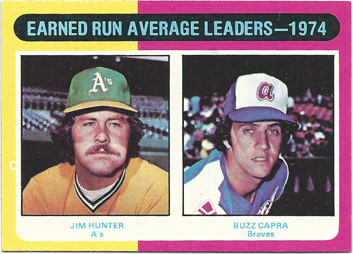 4. I'm a sucker for good stories like one where Tony got a bat signed by Robin Yount. Like the Ron Cey lamp story, there's also a wife involved 🙂
3. Julie's Summer of '74 post is a great nostalgia laced read – an intricate blend that hits the right notes.
2. 42 years later, someone observed the 1975 Cubs team card had a face that was whited out. Who was it wondered Paul (and now me)?
1. In another flea market visit by Fuji, his $10 find of Star Wars and Star Trek cards is one of my favorite discoveries. And spelling out Chronicles of Fuji with the stickers was creative. But there was an even better post – a sentimental Father's Day post. Certain things do get better with age, including Fuji's blog in 2017.