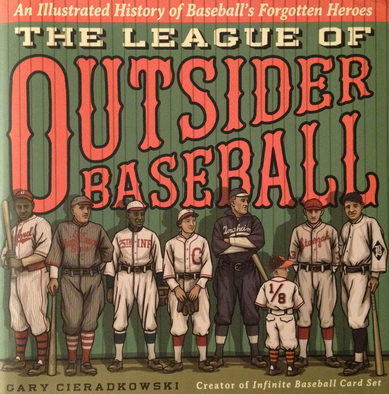 While searching for new blogs to read, I stumbled on a special book by Gary Cieradkowski: The League of Outsider Baseball.
While in art school, Gary traded baseball player trivia with his dad at least three or four times a week – the more oddball and obscure the player, the better. Then in 2009 his father unexpectedly passed away.
One day Gary had an inspiration to draw tobacco-sized baseball cards like ones he shared with his dad. He posted them on the Infinite Card Set and discovered it was a way to reconnect with the exchanges he had with his dad.
His work stands out because of his artistic skills and a knack at digging into baseball's historic archives. It's easy to see he's got a passion and talent for this (see his process here and here)
There's more to Gary's stories than past history – they impact people today. After a blog post, he got separate e-mails from a couple of a player's descendants. The relatives didn't even know of one another, but Gary was able to connect them.
This book flows so smoothly, I found myself quickly immersed in baseball history. It's a fun read and it may impact your life in unexpected ways.
I think his father would be very proud of Gary's book.
Overview
My first impression is that The League of Outsider Baseball feels more significant than what you see online. It's thick, glossy, and colorful and feels plush. If you end up buying it, do yourself a favor and get the physical book instead of a digital version.
The short story format lets you decide if you've read enough about a player or if you want to dig in and learn more on your own.
Take Walter Johnson, the Nolan Ryan or Bob Gibson of his day and even today. I hadn't heard of him so I checked Wikipedia and found that 88 years after his final MLB appearance, he's still the all-time career shutout leader. More importantly, he's still thought of as a highlight of good sportsmanship and friendly competition.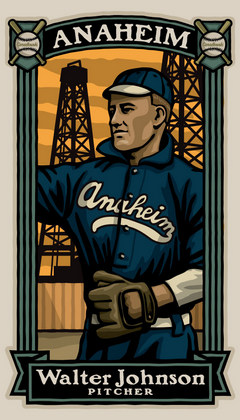 I like reading about inspirational role models like Johnson
The book's portioned into seven chapters. Bush Leaguers is full of familiar names: Jackie Robinson, Roberto Clemente, Babe Ruth.
It shifts to lesser known players – the Could've Beens like Steve Dalkowski, who finally made it to the majors after years of trials. He even had a rookie card produced (Topps 1963 #496), but injured his shoulder during his first game, which ended his career in the majors. Those are the kind of stories that get me started on the hunt for new cards to collect. It's also a good reminder of how amazing it is for anyone to get to play in MLB.
Bad Guys is about what you'd expect. People's Game digs into baseball as a common theme among people who are known for things other than baseball (like George Bush, Fidel Castro, and Frank Sinatra).
Baseball isn't limited to America (or Canada's remaining MLB team). So International Game shares stories from other countries like Japan, Mexico, Russia and beyond.
Chinese- and African-Americans, as well as other races are covered in Race Game. It includes Gary's brush with greatness with Leon Day, a pitcher in the Negro Leagues. During Gary's senior year in art school, he worked on the Camden Yards graphics including the Oriole Park logo. He met Day through a mutual connection from that project. They became friends but Day was pretty humble. It wasn't until Gary researched Day that he understood why Day was eventually inducted into the Hall of Fame.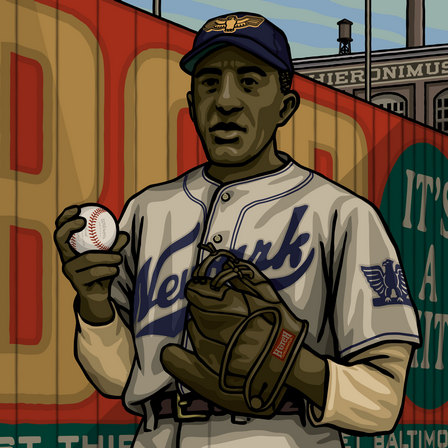 The larger illustrations that capture the time period are my favorite
The final chapter wraps it up with Odd Balls – those players outside the norm, like the only female to have played in an MLB game.
Gary told me, "I chose players thinking I would have fun talking to my dad about them or they'd be someone he would have told me about. That's still my criteria: would my dad be interested or would we have a phone conversation. If my dad's interested chances are other people would too."
The formula works and the result is a book that lets us experience a bit of the discovery and magic that Gary and his dad shared.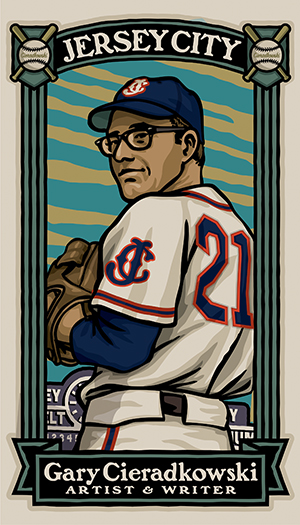 Questions and Answers with Gary Cieradkowski
Q: Amazon Reviews has a comment from Paul Gillespie's daughter (July 28, 2015). Have you heard from other relatives or players you've written about (beyond George Bush)?
A: Yes I get many letters from relatives. That's one of the great side-effects of the website and book, the interaction with the families of the players. Kenso Nushida's family have been very nice to me and I've met quite a few of them and corresponded with many others. They even sent me a photograph of his sister posing with my portrait of him. That was a very nice gesture and it meant an awful lot to me. One of my early stories on my blog was about a little-known guy named Overton Tremper. He played very briefly with Brooklyn in the early 1920's and then played semi-pro baseball around NYC up until the late '30's. As soon as I posted it I received 3 emails from his descendants, none of whom knew of the others existence and lived in 3 different parts of the country. Now the 3 groups of relatives are reunited, all because of a story of an obscure ballplayer from the 1920's. Kitty Burke's family was very helpful and with their assistance I was able to write the most comprehensive story on her life out there. She is no longer a 2-line footnote in baseball history – I'm very proud of that.
Q: Some people think your card and book art is based on the Works Progress Administration style. How would you describe the art style?
A: I think people say WPA style because of the bold colors. Personally I am more inspired by turn-of-the-century poster artists Edward Penfield, Will Bradley and Henri de Toulouse-Lautrec. If you look at their work you can see where my dark line style with bold color comes from. Some people have likened the style to the Japanese menko cards of the 1950's-60's. Those are more cartoon-y than my work but the line and solid color is there. So if I had to describe it I'd say it was cross between the turn-of-the-century poster art with some 1950's Japanese menko baseball card style sprinkled in. [See this link for some examples of posters Gary's: posters]
Q: What was your criteria for choosing the players in the book?
A: When I originally turned in the manuscript it was 100 pages OVER the 240 pages it was supposed to be. I began editing players out, first keeping the most popular players because they would be familiar to most people. But I was very unhappy with it because it cut out the players I personally liked: the unknowns whose stories are rarely told. My wife had the greatest piece of advice I received while writing the book – she said "Don't worry about what you think people want – make the book YOU always wanted to find on a bookshelf". And that's how I settled on the players in the book. I think it is a nice mix of well-known and un-known. When I finally received the printed book I read it cover to cover and said to my wife "This IS the book I always wanted to find on a bookshelf".
Q: What year did you start writing the book?
A: I started May 2014 and submitted the final manuscript beginning of August 2014.
Q: I've read you've received many awards. Which are some that you're proudest of?
A: This year The Baseball Reliquary awarded me the 2015 Tony Salin Memorial Award for commitment to the preservation of baseball history. I am particularly proud of this because of three reasons: 1) I had no clue I was even nominated 2) I was awarded it BEFORE my book was out so it was for my previous work, not just because I had a book on the shelves and 3) There is no more prestigious award a baseball researcher/writer/artist can receive. The Salin is not political, or given out to popular celebrities to make headlines. It is awarded purely on merit and accomplishments. I am proudest of this award. As an artist/designer I'm supposed to win awards because I am good at what I do. It's expected. But to win the Salin, which is awarded for writing and research, that's something else entirely. Many of my favorite writers/researchers are past recipients of this award and man, that's a great feeling!
I've received many other awards for my design work, the most important to me are the "Best Sign Design 1992" which was for the Clock at Camden Yards and was my first award. I am most known for my posters and my work won Gold medals from Graphis, the most prestigious of annual poster competitions, in 2007 and 2010.
Q: You have your own design company – how did you start that?
A: I went out on my own in 2009. Mostly because I like to do a variety of different types of work: posters, print, branding, illustration, props for movies and TV, package design, environmental graphics – and no place I worked at let me exercise my design skills in such a diverse range of projects. Tough part is that I am not a relentless salesman, I find it very hard to sell myself because I tend to be modest and don't like pushing my work on people. I really need an agent but so far have not met anyone that was compatible. It's been a challenge, but very, very rewarding.
What's next for Gary? He's planning to continue the blog. And he's thinking of a volume two focused on the same era: pre-1955. "I stop in the 50's. After that there's newspapers, TV, and radio that take the mystery out of it for me. When you research in the 1930s, it's funner there's some imagination left in it and it seems more interesting."
He's also considering writing a children's version of the book for young adults (10 or 11 to high school). "No brothel stories or suicides," Gary said. "I've been getting letters from fathers and moms wanting to get their kids interested in baseball. I found parents like the book. With kids into video games, they try to get them into sports. And the history of baseball is interesting. Once kids catch an interest there are a few characters they gravitate towards."
Thank you Gary for the book and for sharing more about yourself.