One of the cool things about collecting cards is finding something shiny that leads you down a new path. I was scanning eBay listings and saw a glitch in my matrix, a Fred Lynn card that was unlike any other I'd seen: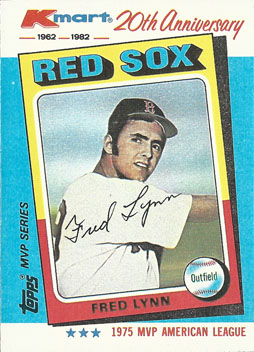 It wasn't the #622 Fred Lynn rookie card photo that I knew: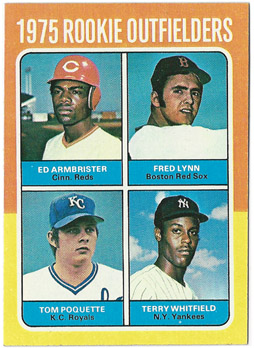 Look at Fred's photo and notice it just looks weird. As in… what's that white blob below his face?
It shouldn't have shown up in my card search, but it was mislabeled. It was part of the 1982 Kmart 20th Anniversary AL & NL MVP's Baseball Picture Cards Bubble Gum Collector's Series.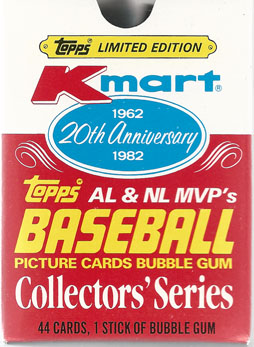 Kmart box front
This set was co-branded with Topps – marked as a limited edition. Limited is ironic, there are so many unopened packs for sale it's akin to the 90s mass overproduction. And that's awesome because it makes a vintage pack break affordable.
What I like about this set:
an full (and likely unedited) rookie card photo of Fred Lynn – no future reprints have this view.
includes likely the first 1975 tribute cards
it's cheap… you can get a set for less than 5 bucks including shipping – there's your blue light special!
the experience of opening a pack of 44 "vintage" cards (complete with a stale stick of gum)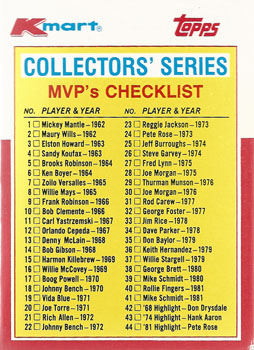 Back of box checklist
The 1975 Topps set is my favorite, but I'm not a fan of the shared four player rookie cards. The three rookies per card format in 1973 was pretty good, and then for some reason Topps started cramming in four tiny faces on a card in 1974. So this Lynn card rights that wrong and on its own made it worth getting the set. The only other '75 reprint in the set is Joe Morgan: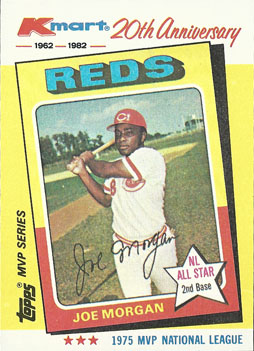 Update: After I wrote this I found another blog post about this card from a while back