I'm always looking for cards that commemorate 1975. So when I saw a card from this year's Topps Highlight of the Year subset, I immediately checked and found a 1975 highlight on COMC.
There are 30 cards in the subset. The odds are 1:4 packs, so they're not rare, which is fine since it translates into a card that's less than a buck.
The 1975 card celebrates Willie McCovey's third Career Pinch Grand Slam. McCovey is still tied for that record with four other players (two in each league). Plus he's still the National League Grand Slam holder (and tied for 5 overall).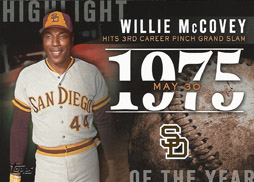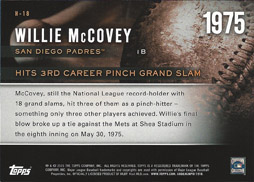 I like the card. It's got a gritty feel to it. And does the photo look familiar? Topps lifted it from the 1975 Topps Set. I like the tribute and tie-in to my favorite set: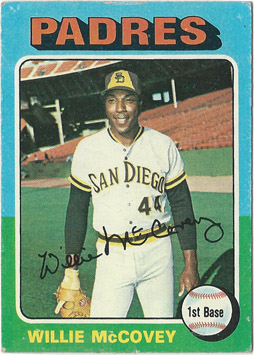 By the way, COMC is the best source I've found for modern cards because you'll usually find the best prices and you can combine shipping from many sellers. And equally important is the fantastic support they provide. With eBay sellers, I've had mostly positive experiences, but some were lemons. But with COMC, every person has been friendly and every order has been great.
Currently their standard shipments include the scratch-off card below (until they run out). So if you're about to have cards shipped to you, this is what you'll get: