Introduction
I was surprised by Dave Jamieson's Mint Condition: How Baseball Cards Became an American Obsession.
A historical book about card collecting could easily be dull, but it turned out to be a page turner that I couldn't put down. Dave focuses on stories about people from all walks of life and weaves them together with a card collecting thread.
I mostly read non-fiction and Mint Condition joins my other favorites: Band of Brothers, A Curious Mind, The Power of Habit, and several Malcom Gladwell books. Below is a review followed by what happened after the book's publication and an interview with Dave.
Overview
Mint Condition starts at a personal level with Dave's own card story. It mirrors my experience and a lot of collectors: childhood collecting eventually fades away. Then rediscovering cards leads to realizing most of our cards aren't that valuable monetarily. And eventually some of us find the underlying adventure of cards again. It sounds a bit mythological.
The book's narrative at times felt more like the Da Vinci Code. Dave visited the National Archives to dig through the FTC's Topps vs. Fleer litigation case file (someone stole the baseball cards that were included in the archive). And he ends up in Harbor City, California learning tricks of the trade from a white-hat card doctor. The writing is excellent – I felt like I was right there with Dave.
Early Card Collectors. Jefferson Burdick was one of the earliest card collectors. He railed against another collector advertising offers to pay 10 times the going rates for cards. Burdick felt that would ruin the hobby and cause card inflation. I'm guessing he'd feel the same about graded cards.
He kept in touch with a network of other collectors through mail. It's an interesting parallel to bloggers trading via the internet and mail today.
One of the Burdick quotes from the book (and originally published in the 1955 Syracuse Herald-American) resonated with me: "Some ask how anyone becomes interested in cards. You don't become interested – collectors are born that way. Card collecting is primarily an inherited love of pictures."
My Precious. The Michael Gidwitz chapter is a cautionary tale for collectors. Gidwitz starts collecting cards as a kid and over time is has the rarest cards like the Gretzky T206 Honus Wagner. But eventually even those aren't rare enough. He feels "anyone can get the cards" so he transitions to creating collectibles by commissioning one-of-a-kind art from artists that previously drew baseball card artwork.
It felt so isolationist. His portrayal reminded me of Lord of the Rings' Gollum. It's the opposite of what I think is the soul of card collecting and trading. I don't need a 1975 PSA 10 set to feel good. Finding a nickel card that completes a set can be just as rewarding. But it's a good reminder to check your ego and avoid turning into something you don't want to be.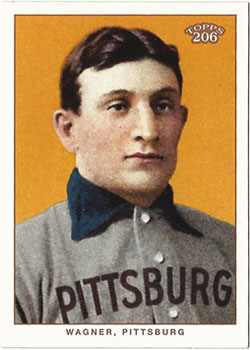 I can afford this reprint of a T206 Honus Wagner
Behind the Scenes at Topps & PSA. Dave spent time with Topps executive Sy Berger, so we get an inside look into Topps the company. This helps explain many dynamics of baseball cards – like why there weren't any true Topps competitors until the 1980s or what led to the mass overproduction of the 1990s.
Dave also takes us on a visit to the grading labs of PSA (Professional Sports Authenticator) to experience how cards are graded. This was one topic that raised more questions than answers about card authenticity (especially when combined with the chapters related to card doctoring).
Card Sharks. Scams and card doctoring are risks card collectors deal with constantly. Dave sheds light on these topics with stories from 3 people. Bill Mastro auctioned a T206 Honus Wagner (that eventually Wayne Gretzky and Gidwtiz would own for a while). Robert Lifson, who was once Mastro's partner, discusses the dangers of auction houses. And one of the most interesting chapters is about Kevin Saucier, a collector (not the Phillies baseball player).
Kevin educated himself in the ways of card doctoring to avoid getting scammed. In the book he teaches us about card doctoring so everyone's informed of the risks. It reinforced my belief that "investing" in cards doesn't makes sense. The more incentive there is to beat the system, the harder people will try. I can't afford a Gem Mint graded Yount card, and even if I could, I wouldn't feel comfortable buying one.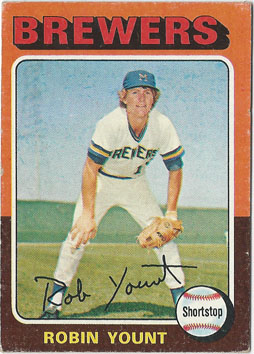 Yount is one of several rookie cards in the 1975 set that may be susceptible to card doctoring due to it's high graded value
It's Just a Piece of Cardboard. A collector describes a dire outlook about the long term card market: when the current generation of card collecting adults get older and start disposing their cards, nobody will be there to buy them. Maybe that happens with more valuable cards. I don't really know. But the final chapter helped remind me to avoid putting retirement money into cards.
What I do know is that as long as we enjoy the experience and the people we meet, it'll be worthwhile.
Epilogue
It's been over 4 years since Mint Condition was published. This is what happened to some of the people featured in the book since then…
In June 2012, CBS Sunday Morning ran a story about the demise of baseball cards (news flash!) – it includes Dave Jamieson
Bill Mastro, the card auctioneer, was indicted in 2012, plead guilty in 2013 and will receive his sentence on August 20, 2015. This was for charges that included selling "…the most expensive baseball card in the world, a Honus Wagner T-206 card… MASTRO knowingly omitted the material fact that defendant MASTRO had altered the baseball card by cutting the sides of the card in a manner that, if disclosed, would have significantly reduced the value of the card…."
In 2013, Upper Deck's Richard McWilliam aka the "well-connected accountant" as referred to in the book died at age 59
Major League Baseball extended an exclusive baseball card license with Topps through 2020 with a goal of making cards increasingly relevant to children…
In 2014, Sy Berger, the Topps exec that played a huge role in card collecting died at age 91.
Kevin Saucier Update
Kevin Saucier quit baseball card collecting after becoming disillusioned with the hobby. Referring to the Mastro scandal, he wrote, "When the most iconic card has been admittedly altered and graded without apologies from the authenticator it's time to move on to something else."
Kevin added that sellers will pay to have cards "improved" which adds to the deception in the hobby. He didn't share all alternations that can be done to cards in the book. Intense weeks-long doctoring can lead to unbelievable results. According to Kevin, "There are some card docs who try to improve common modern cards. They work in volume and try for big grade bumps. They are few and far between though. Once graded and slabbed it's harder to tell if anything has been done."
I'm a 1975 Topps fan and I've thought of 1975 Topps cards as a safer set to collect. I asked about the risk with those cards. Kevin notes that the ones to be concerned about are the top dollar cards like a Yount or Brett, which can cost over $15,000 in PSA 10 condition. "Those cards are typically sanded to get the sharp edges if they are doctored. Thankfully they have colored borders which make it tougher to color match." He thinks people are safer with lower grade '75 cards. That reaffirms my approach.
Today Kevin runs a Titanic collectors web site and I wish him all the best.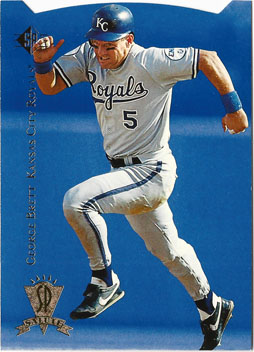 Upper Deck George Brett running away from card doctors
Interview with Dave Jamieson
Dave Jamieson currently works at The Huffington Post. He still owns an '84 Topps Mattingly rookie card that holds sentimental value. Below is a brief interview with Dave.
Question: If you knew what you know now, would you do anything differently when writing the book?
Dave: The biggest development since I published my book is probably the guilty plea of card auctioneer Bill Mastro. I interviewed Mastro at length for the book; he gave me a lot of time at his office outside Chicago. We spoke for a while about the card-doctoring and shill-bidding allegations, as well as the reputation he bore for being aggressive, even bullying. Obviously, had I known all that would unfold in the years to come, I would have had many more questions for him.
Q: In a 2010 interview, I read you would've written about Larry Fritsch if possible. Now that some years have passed, is there anyone else?
Dave: Well, I'll always regret not meeting longtime Topps art director Woody Gelman, though I can't blame him or myself for that; he passed away years before I wrote the book. But he remains my favorite character and chapter in it, and I'm grateful for all the time I got with those who knew him. One chapter I didn't write but should have is one about Cuban baseball cards featuring African-American players. I wish I'd taken the time to do that because it's such a fascinating subject and a largely unknown corner of the card world.
Q: You said you understand the attraction of cards and that they animate people's lives in amazing ways. Do you remember what you meant by that?
Dave: Everybody had their own motivations behind collecting, whether it was Jefferson Burdick or Woody Gelman, or Mike Gidwitz or Bill Mastro. That's why it never got boring reporting the book. Each collector was driven by something very different (and it was rarely money, in my opinion).
Q: After 5 years, if you reflect on what you enjoyed most writing the book, what would that be?
Dave: Years later, it's the people I remember far more than the cards. People like Mike Gidwitz and Kevin Saucier were incredibly interesting collectors who opened up their collections and their stories to me.
Q: You've mentioned you haven't bought any cards since you were 14. Has that changed since publishing the book?
Dave: I'm a lapsed collector – I haven't regularly bought cards since I was a kid – but I found the characters in the card world to be fascinating. Though I don't collect cards myself and doubt I ever will, I find that since writing the book I really enjoy giving cards to other people. When I threw my book party I bought several boxes of '87 Topps and gave packs out to whoever showed up. It was a blast. Last week I was visiting family in New Jersey and picked up a couple packs at the pharmacy to give to my nephew. It's such a small thing but it brings me back to my own childhood. Who didn't love getting a random pack of cards that you weren't expecting? I could see the excitement on my nephew's face, even if this generation doesn't collect the way ours did.
Q: Do you still have all your childhood cards?
Dave: I had to get rid of the 80's commons I had. I just couldn't cart them around whenever I moved; I had boxes upon boxes of them. And they weren't easy to unload. I called some charities but they wouldn't take them. I think I ended up putting them at the curb for whoever passed by and wanted them. What I saved were the 80's rookie cards and handful of vintage cards I had that were special to me, as well as some old Yankees team sets. They fit into a single shoebox. Every once in a while I'll pull them out and leaf through them. I suspect I'll have those cards for years to come.
Q: Are you working on any other books (or updating Mint Condition)?
Dave: I'm not working on any books at the moment. I'm a reporter at the Huffington Post, covering labor and workplace issues out of our D.C. bureau. I'd like to write another book someday, but for the moment I suppose I'm just happy to be on a beat and getting a regular paycheck.
Q: We hear anecdotal evidence and concerns about a decline in card collecting and card values, but the truth seems more complex. What did you encounter along these lines?
Dave: There was a reason I closed out the book by writing about Bill Henderson, the so-called King of Commons, who helps people fill out their sets on the cheap. There are a lot of collectors for whom value is very much beside the point, and I found that to be an encouraging ray of hope for the industry. Baseball cards in general have gone through booms and busts, stretching all the way back to the 1800's, yet they've always found a way to endure. Even with all the competition today for kids' attention, be it video games or the web, I see no reason why they shouldn't last as long as baseball.
Thanks to Kevin for sharing additional insights, and thank you Dave for writing the book and answering my questions!
To buy the book click here.